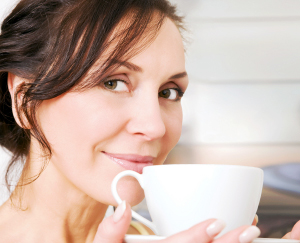 The incidence of influenza in the green tea group was significantly lower compared with the placebo group.
Green Tea Linked to Lower Flu Risk
No one likes to get the flu, so finding simple ways to fight off the illness is welcome news, especially for those at higher risk for infection. A study in the BMC Complementary and Alternative Medicine suggests that green tea extracts may help prevent influenza in healthcare workers.
Better immuni-tea
Certain people, such as healthcare workers, the young and the elderly, and people with chronic health conditions such as diabetes or lung disease, are at greater risk of getting the flu than others. This study looked at the effect of green tea extracts in helping prevent flu in Japanese healthcare professionals who care for the elderly.
In this study, 200 healthcare workers were randomly assigned to receive capsules of a green tea extract that contained compounds known as catechins (378 mg per day) and theanine (210 mg per day) or placebo for five months. The majority of participants had also been vaccinated against the flu.
Results showed that the incidence of influenza in the green tea group was significantly lower compared with the placebo group (4 versus 13 people were diagnosed with the flu).
Prior studies have also shown that green tea may help prevent influenza, and the authors of this study comment, "The consumption of tea extracts including catechins and theanine has also been reported to enhance systemic immunity and prevent the occurrence of upper respiratory tract infection and influenza symptoms in healthy adults." Larger research trials are needed to confirm these study findings.
Things you can do to prevent the flu
The influenza virus is a cause of serious illness and even death, so it is important to take preventive measures to stay well:
(BMC Complement Altern Med 2011:11:15)
Jane Hart, MD, board-certified in internal medicine, serves in a variety of professional roles including consultant, journalist, and educator. Dr. Hart, a Clinical Instructor at Case Medical School in Cleveland, Ohio, writes extensively about health and wellness and a variety of other topics for nationally recognized organizations, websites, and print publications. Sought out for her expertise in the areas of integrative and preventive medicine, she is frequently quoted by national and local media. Dr. Hart is a professional lecturer for healthcare professionals, consumers, and youth and is a regular corporate speaker.